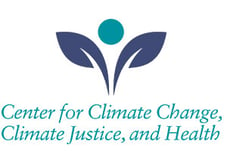 Presented by the MGH Institute Center for Climate Change, Climate Justice, and Health, and in partnership with the IHP School of Nursing Upsilon Lambda Chapter, The Honor Society of Nursing, Sigma Theta Tau International, this symposium will provide health care professionals with an opportunity to engage in robust discussion about ideas for corrective action to improve the lives of people in the face of climate change.
---
Climate change is a growing health concern, with implications for safety and well-being; nutrition and food security; food-, water-, and vector-borne diseases; and mental health. Climate change and the social determinants of health are closely aligned, contributing to disparate environmental exposures and health inequalities, as a disproportionate number of low-income individuals, some communities of color, and those with higher vulnerability to disease and chronic health conditions are at risk.
Health professionals play a critical role in climate change prevention and preparedness. Join national experts and faculty from the MGH IHP School of Nursing Center for Climate Change, Climate Justice and Health to address ways to identify the risks of health climate change, advocate for climate/environmental justice and mitigate the impact of climate change on health and well-being.